Hi, I'm Jay!
Introvert & Tea Drinker!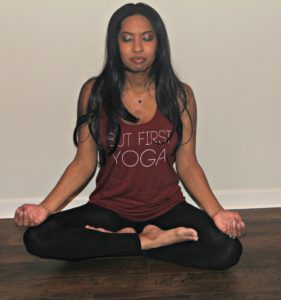 I am a lifestyle coach, mompreneur mentor, and certified stress management coach for entrepreneurs who are ready to take action and launch their business or blog.
I am building my empire, as a stay-at-home mom who homeschool's a second grader and a work-from-home mom. I have generalize anxiety disorder, panic attacks, a ton of phobias, and a tab bit OCD. I'm also a dōTERRA Wellness Advocate.
I've learn how to take control of my anxiety and not let it take control of me, as it has done for many years. As long as I can remember I have always been "nervous".  As a kid, I knew nothing about anxiety or panic attacks. Mental disorders… well dare I say it, you would be labeled with the big "C" word. Yes, crazy! Actually, that is far from the truth.
Now, I'm sharing my story about my life with anxiety, in hopes it can help other women. I want women with anxiety to know they can do whatever they set their mind to. That we can put anxiety in the backseat and take control of the wheel.  Somedays my outer and inner world's are in chaos. With daily meditation and oracle card readings I have learn to calm the chaos and can run a business from home.
With help from my psychiatrist, meditation, eating healthy, and maintaining a healthy lifestyle I am able to keep my anxiety under control and not let my anxiety control me or control my business.
In addition to running Jay Creed Coaching & Consulting, I also have a lifestyle blog where I'm blogging about travel, homeschooling, fashion, beauty, and more over at Life of Creed. I have a Bachelor of Science degree from the University of Phoenix in Health Administration, an Associates of Science in Pharmacy Technician, and a Diploma as a Medical Office Specialist. I am a Certified Stress Management Coach through the Spencer Institute, Hootsuite Certified Social Media Marketing, and  a contributor for The Mighty.
To your mompreneur journey,
Jay
Mompreneur with anxiety
Reserve, you will see my anxiety hiding, there in the shadows. Waiting to jump out at the perfect moment, when I least expect it. My anxiety, really knows how to take me on a journey. Once upon a time that journey, didn't take me far and if by chance it did, it was a calculated plan.
We haven't always been friends anxiety and I. The past few years, we have learn to become friends. It can happen, you can make friends with your anxiety and not let it completely take control of you and your business.
I started with gaining clarity on the blocks and triggers for my anxiety. I dug deep within the hidden place to unearth the darkness that anxiety to send me into a panic. I am still learning things that can trigger my anxiety, but I have to continue going uphill.  I learn that not only understanding my own anxiety, my support system had to understand it as well. As a mompreneur with anxiety, it helps when my support systems know triggers that could send me into the rabbit hole or into a tailspin.
Mompreneur Mentor
As a mompreneur mentor (a.k.a coach), I know what it is like to live each day with anxiety, panic attacks, and obsessive-compulsive disorder (OCD). I also know what it is like to run a business from home (and homeschool my daughter).
Coaching is like having tea with your best friend, it's a support system with someone who has been there and understands what it's like to live with anxiety and what it likes to be a work-from-home mom. It's having a support system for guiding you to running your business with confidence.  It will inspire you to maximize your personal and professional potential, while keeping you accountable.
I will assist you in gaining clarity and awakening you inner goddess.
As a client, you are willing to learn and put knowledge into practice. You will learn that yes, you can be a stay-at-home mom and also be an mompreneur. You are open minded, self-reflective, and ready to put in the work.
SaveSave