If you're in business to make money with your blog (or other work from home business), then you need to market your blog to your audience and actually tell people what you do. If you do your job well, you need to tell prospective clients in an effort to win their business. As a blogger, you don't want your blog full of ads (a few are ok, I have a couple in my sidebar) you also want sponsored content that you are paid to publish.  And what better way to do that than with social proof. It's not bragging, it's smart marketing and many more people are turning to social media to get reviews of a service, product, or even on a person. 
So why are so many business owners afraid to ask their clients and customers for glowing testimonials or reviews? Or bloggers asking readers to leave a comment on a blog post. I too struggle with asking for the testimonial, review, sometimes I don't always put a call to action in a blog post to leave a comment to get engagement going. But why not ask? 
How to Use Reviews and Testimonials Online
Facebook allows users to leave reviews on Business Pages. You can find those reviews on a page either with the link in the left sidebar or by scrolling down the page itself. However, the average user, knowing where to find the link to leave a review may not be obvious, which is why you should get in the habit of asking and directing people to that link. When people leave reviews, other readers, prospective clients, and customers will see them and may be swayed to take action by clicking over to your blog, buy your product, or ask for more information. 
Below you can see the sidebar from my Facebook Business Page for Life of Creed.  A few lines down you will see the Review link.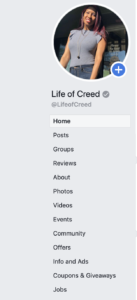 If people email you testimonials, you can add those to your Facebook Business Page as a regular post. Facebook doesn't allow for you to add reviews to your own page. If you have a testimonial page on your website, make sure you add it there as well. 
You Should Keep Reviews and Testimonials Current
Asking for reviews is one way to keep them up to date. For instance, if I'm looking for a website designer but your last Facebook review is from 2016, I'll wonder three things: 1) are you still in business; 2) are you just not getting reviews because you're not good; 3) even if you're not active on social media, clients could still leave reviews, so just makes me wonder. The answer could be that the business simply is not asking for reviews. 
If you are selling a product or service, current reviews also show prospects that you've taken steps to make updates or rectify past problems. 
Make a change today – start adding a call to action and asking for reviews and testimonials. Ask for an email or send direct links to your Facebook Business Page to review section. Don't forget about Google Reviews and Yelp so they can write online. Not only will good reviews validate the work you're doing but will also help new prospects and readers know that you are capable and knowledgeable.