Spring is in here and I have been slowing room-by-room, spring cleaning my home. Today, I'll start working on spring cleaning my blogs. I don't do this every spring, but I try to do it throughout the year. Spring cleaning your blog is good to make sure everything is still working and that outdated information is updated.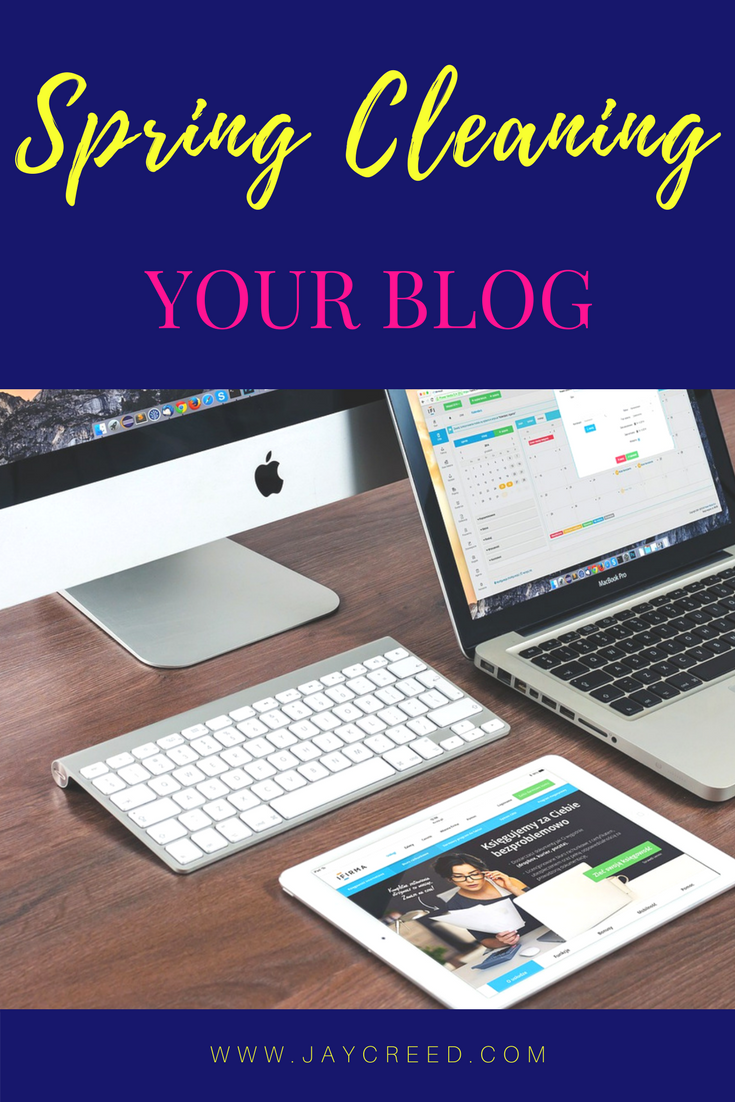 Here are 4 tips you can use for spring cleaning your blog:
Check for broken links
Update About Page
Clean up sidebar and footer areas
Update Contact Page
Check for broken links
For one of the affiliate marketing networks I'm with, checks for invalid links. If an affiliate link is not working, it will let me know on the dashboard. But it's not that simple when you have tons of links on your blog. Yes, it can be time-consuming, but do it in small chunks. One way is to go page by page, leaving the blog for last. That's where the bulk of links will be, at least for me that's where they are at. Check each page, by clicking on your link to make sure it takes you to the right destination. Especially, if it's an external link.
Update About Page
The About page is one of those pages that sometimes get forgotten once it's created. Each year, update the About changes. Maybe you mentioned kids ages and now they are a different age or perhaps things have completely changed and the About page simply does not relate the new life changes or the new niche of your blog. Update the photos, I had the same photo up for a couple years of myself. I try to have my About photo look similar or yes, sometimes the same as the profile photo I use on social media. If you have contact info listed on this page, make sure it is up-to-date too.
Sidebar + Footer Cleanup
These both can get messy. If you have a lot of ads in your sidebar or footer, please other widgets it can look extremely busy. My footer, I try to keep as clean as possible. But my sidebar (especially the one on my lifestyle blog), that's another story. I have been trying to clean it up, remove some of the ads that have been there. You will notice on this blog, I only have a sidebar on the blog portion. I try to keep all the other pages clean.
I know putting ads in the sidebar, is a way to bring in some revenue, but too many will distract readers from your content. An ad can be clicked and the reader may not always come back to your site. The goal is to keep them coming back, the ads and other sidebar content does not make them click away and not return.
Update Contact Page
Have you changed your email address? Does your contact form work? Test your contact form to make sure it works and you receive the messages. For a long time, I didn't list an email address on my contact page. Only a quick message saying you should contact me with questions or to work together. But this year on my lifestyle blog, I also included an email address to reach me. This way if a brand wants to reach me a more direct way, they can. But that is totally up to you.
Bonus Tip
Give your blog a new look. This is also a good time to make changes to your theme, especially if you have been putting it off. If you have been a reader for a while, you will notice the look of the site has changed. In spring cleaning, I also give this site a new, fresh look.
Hope this helps you to with spring cleaning your blog. Let me know in the comments, how you spring clean your blog.