2018 is almost here! Now, is the perfect time to start creating your list of goals. No matter, if your goal is to launch a business, change your eating habits, go a dream vacation, or little personal self-improvement goals, you have to write them out. Put that list in a place that you will see daily and also get the handy Goal Setting Tips info-graph to help you with creating SMART goals that you can achieve.
What's a SMART goal? 
Specific
Measurable
Attainable
Realistic
Timely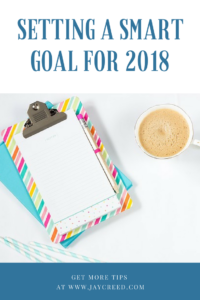 We will use the example of traveling the world and go deeper in to SMART setting goals.
First step is to set goals that are SPECIFIC. You would like to see the world. The world, is a big place. Narrowing down a location in the world, is the first step to setting a specific goal. Traveling to Asia would make the goal more specific, but still very broad. Go deeper and pick a location. Japan would pin point it down to a specific location. Now you have something you can actually picture. You have something you can pin to your vision board. You can add things you would like to see in Japan, to your vision board. This helps to bring you goal to life. You can see it and you can see the things you are working towards.
Is this goal MEASURABLE? Yes, it can be. You know that it will require money and planning. So goal within the bigger goal, is to save money to pay for the trip. You should pick a set amount of money to save each month, that will go towards paying for the trip. This helps to break down the money goal. You can research hotels, flights, etc. online to get a estimate of how much the trip will cost you. You can also visit a travel agent to get an estimate of how much the trip would cost. Don't forget to account for spending and incidentals. Planning, you set a date that  you would like to achieve this goal by (the date you want to be on a plan flying to Japan). You plan according, with your money saving goal so that can purchase plane tickets and book a hotel in advance. This makes your goal measurable, you know that you can save the money and plan the trip.
It also requires an honest look at yourself and your abilities to know if the goal you get is ATTAINABLE. You know what you want and you have measured that you can make it achievable. You have determined that a trip is what  you actually want. But, is your goal to tough? If it is you, will not see it through. If it will put you in a financial bind, saving money for a trip, this will discourage you and make it harder to reach your goal. You do not want to skip paying bills or putting food on the table to reach a goal of a trip. So this makes the trip unattainable. BUT, you can set other goals – like work towards getting a second job, to fund the trip. Or asking for a pay increase at your current job. Many people dream of taking the dream vacation to a foreign country or tropical island, but few actually make the dream a reality. If you set you mind to it and even set smaller goals within the larger goal, you can make an unattainable goal attainable.
Ask yourself… are you willing to work towards the goal? Are you able to put the time, money, and commitment into the pursuit of the goal? This is important! This is you being REALISTIC about the goal you set. Each goal you set, has an impact on the decision you make in life to achieving the goal. With any decision there are advantages and disadvantages. And like DJ Khaled would say "there will be they who will say you cannot achieve that goal". Don't let naysayers discourage you. You also must be willing to accept the costs of your decisions and recognize that it will impact other areas of your life. For a trip to Japan, you may have to cook more meals at home versus eating out often to cut cost and save money. Maybe not splurging on the new handbag, you can put that money towards the trip you are saving for. But it's impacts that will help you achieve your goal.
Is your goal something that can happen in a year (or two)? Can it happen in a TIMELY manner? Not 10 or 20 years from now, where it becomes something on the back burner. Think about how it will feel when you achieve your goal. Setting a time-frame (realistic one) that you can achieve your goal makes you accountable for the goal. If the time-frame you set is to far out, you will say to yourself "I have time". Don't do that, because the goal, just becomes an after thought.
Now, grab a pen and paper and jot down a few goals for 2018. Create a vision board to put your goal right smack in your face, every. single. day.
The SMART Goal Blueprint Session investment is $125. The session takes place via Zoom.