Affiliate links used in this post. This means I'll make a small commission if you make a purchase. Thanks for supporting Jay Creed blog.
Often I get asked, "How to start a blog? I need to make money fast." One, blogging is not a get rich quick, make money the moment your blog is live for the world to visit. That doesn't mean you cannot make money, because you can. But it does take time and you need to have goals and a blueprint for how you will go about doing so.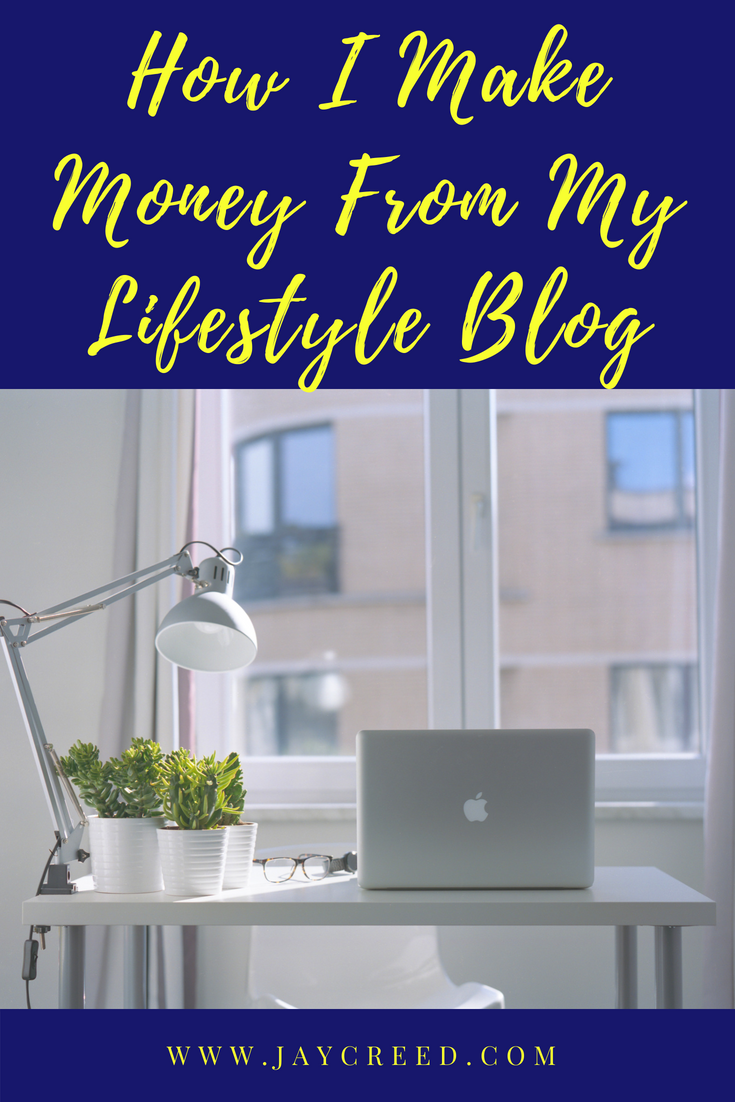 Today I wanted to share I make money over on my lifestyle blog, Life of Creed.  You have to keep in mind that two bloggers may not make money the same way. I've learned over time, it is good to have more than one revenue stream for earning an income from blogging.
You can make money with affiliate links, ads, sponsored post, selling online courses you have created, or selling your own products (teeshirts, coffee mugs, or other digital product).
Majority of my blog income comes from freelance blog post and sponsored posts, but I also earn through affiliate links, and ads. I'm in the phase of re-creating my own products to add to another income stream to both my blogs. Let's jump into the ways I earn income with my lifestyle blog.
Freelancing
You can offer your service as a blogger to write for other websites. You can also use sites like Upwork and Fiverr to get clients. I have used Upwork to hire, but have not used it to showcase my skills to get clients. Fiverr, however, I used it a  few years ago for a few months as a seller and had success getting gigs as they are called on the site. This month I started using it again, as I brought back an old category to the lifestyle blog and have been able to have people pay me to write about their music for my blog.
Fiverr is you can hire someone to do a gig for $5. When I first started years ago, that's the price point I started at. But now, I charge a hirer rate for the gigs I have listed. So,  don't let the $5 price point scare you because you'll see gigs are priced anywhere from $5 to $995. Yes!! There is a lot of potential to make money with Fiverr.
Fiverr is free to sign up for as a seller. It's simple… You sign up and create a profile. Then you create your gig. Payment can be sent to you via PayPal.  You keep 80% of each transaction (yes, Fiverr does take a small cut).
Affiliate Links
If you do affiliate linking right, you can bring in money each month. My favorite and the ones I used in almost every blog post are Shareasale and Amazon Associates. Here on this blog, I share about Bluehost often. Shareasale This is one of the first platforms I used to make money blogging. You start by signing up to be an affiliate and then you apply to become an affiliate for different companies. Many of the companies are some you may already you use in your personal and business.  Some of the companies I'm an affiliate of are Reebok, PicMonkey, Tailwind and a ton of other affiliates.

Bluehost A very popular web hosting company. I recommend Bluehost as they are great to use, especially for the new blogger. It's also affordable pricing for the new blogger.
Amazon Associates I like that I can link to many of the products I use and mention in my lifestyle blog and I also can put ads in the sidebar, but I haven't made much money from Amazon. I continue to use it, because hey, you never know when it may start to bring in a decent amount of income.
Selling Your Own Products
When I first started blogging, selling my own products was not even a thought. One, my readers were a couple of family members and a ladies of my blogging friend's tribe. But as I started to turn my blog into a full-time business, I knew that I also wanted to add my own products – teeshirts, coffee mugs, and online course.
Currently, I'm working on new products and updating old ones, so I have my store close. But I've use Shopify for my storefront.
Ads
Adsense
This is easy for the beginner blogger and also great for the seasoned blogger. I use them in my sidebar and will add them within the text of a blog post.
Amazon Native Ads
I have one in my sidebar and just recently started adding a grid layout native ad to blog posts.
Do you have a favorite way that you like to make money blogging? Share your tips in the comments.