Having anxiety and starting a business can be rough. The overthinking about the what ifs is added stress. Today I want to talk about starting a home business. How you can get your business moving and growing without letting anxiety take control.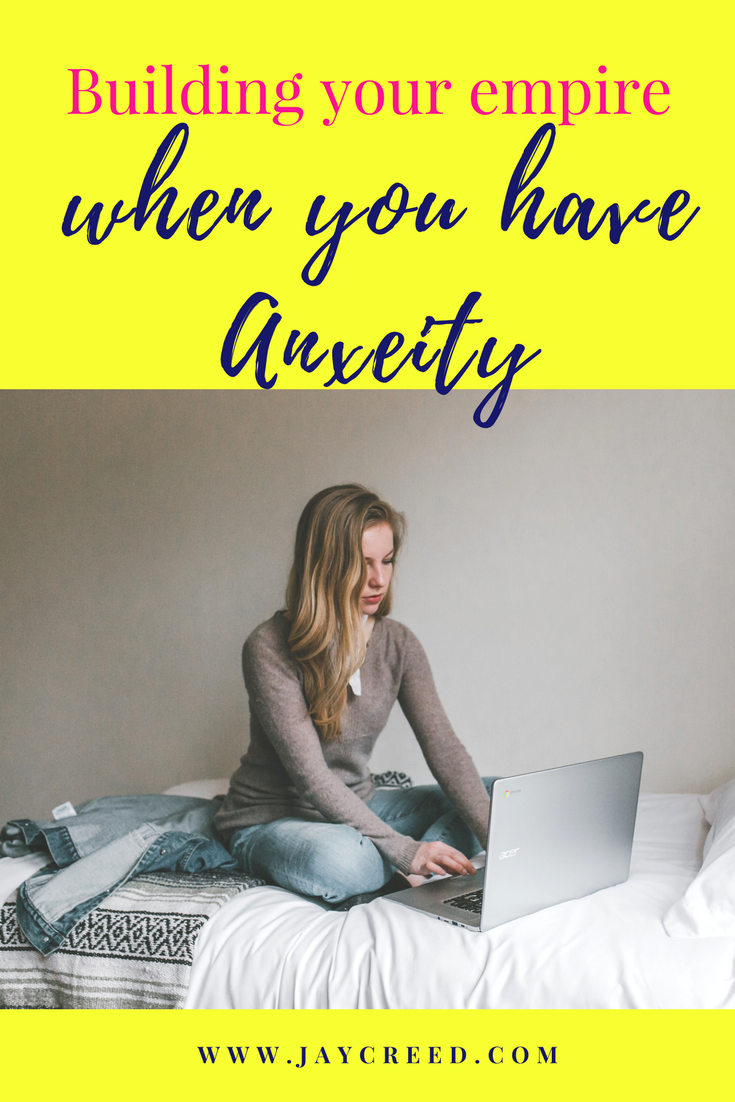 I started my "laptop lifestyle" back in 2013 with a blog. It was mostly a hobby, but it grew and I saw that it didn't have to be a hobby that it could be a business. Without hesitation, I went from a free WordPress blog to, buying a domain and setting up my blog as my business venture.
Why was there no hesitation? Why didn't anxiety kick-in? Well, one I had already tested the waters and answered many of the what ifs. I worked hard on my blog and I saw everything I did as a way to express myself and share with my readers.  As the blog grew, I saw other ways I wanted to grow my brand.
My blog was just the beginning. I had a vision, so I bought a domain for that vision. I even started a website, but the vision changed just a tad bit as I wanted to go a different route with my brand. Which lead me to purchase a couple more domains. My vision was to have a consulting agency. That part of the vision did not change. I figured out I did not have to do it along and that I did not have to have just one niche or one type of business.
Fast forward to now, I've since added another part to this vision with another domain.  I decided that I was going to take my "laptop lifestyle" to the next level. So I launch Jay Creed Coaching + Consultant. With my focus on helping women with anxiety and becoming a mompreneur (or just becoming a fempreneur). Shortly after I launched Jay Creed Designs as the sister site to Jay Creed.
As I continue to work on building my brand, I also get a few kicks from anxiety. Are you crazy? You can't have a consultant business and design business. But guess what? Using my own advice of building confidence. I've built my confidence; YES, I can do anything. You will not know if something will work if you do not try. If I want the laptop lifestyle, it requires work and sometimes it requires have multiple streams of income. Which is a reason I am also a doTERRA Wellness Advocate and NuSkin Distributor.
I am my brand! I am a mompreneur! I market all under one name. One way I try to nip anxiety in the butt within my business social media is by not have different social media accounts for my Beachbody coach or NuSkin – that's how overwhelm can step in. And overwhelm and anxiety are friends. Those two together will bring stress to the party. Plus, I think about the added time it would take to manage additional accounts. I'm not at the stage in my business where I need a VA just yet. Being Certified in Hootsuite Social Media Marketing helps me with social media and do it with ease.
Anxiety doesn't have to stop you from starting or growing your business. Build up your confidence and take on anxiety one day at a time. You are in control of your business. The only way to see it grow is to start. Just like plants, you have to water them to see them grow. Do the same with your business.
Remember anxiety doesn't define you. Even though anxiety can be an uphill battle. You can accomplish your goals. When you do, you can laugh in the face of anxiety.