This post is sponsored. 
When I started blogging I was a DIYer, I did everything myself and as I grew and started my coaching business I realize that I'm a solopreneur. I like doing things myself. One way I learn not to get overwhelmed in my business is with automation. Automating social media, invoicing, etc.  
With automation, it can increase your productive by freeing up time and you able to work on something else in your business. I'm sure you have noticed lately the AI is popping up everywhere. Robots can save hours in your day-to-day business routine. Robots also called bots are becoming a norm in business. 
How Can Automation Transform Your Business??
The latest technology is Robotic Process Automation (RPA). This technology uses "software robots" to automate daily task like processing invoices, entering data, and more. RoboWorx's technology mirrors the interaction between humans and business applications. The robots can log into applications, navigate through menus, open emails, copy and paste data, doing tasks that we would normally do in our business. 
Think about those tedious tasks you have to do and this robot can do it. The bot will perform any task that you or your VA does on the computer. It can run all day, every day. Which again helps you save time and put your energy towards creating new blog posts, new products, working one-on-one with clients, or coaching programs in your business. 
An RPA software robot is capable of performing a list of more than 600 tasks. With the robot, it never gets tired or makes mistakes. Overall increasing productivity in your business. 
Some robots run unattended and will only need human interference to assist with exceptions. There are other bots that run attended and will require you or an employee to play a vital role in the process. But you will be able to have more time and better use your time with the RPA.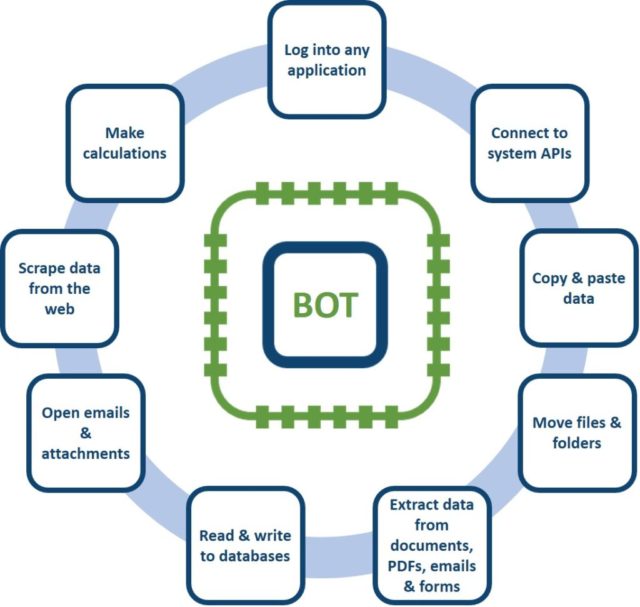 RPA differs from other automation tools. It's non-intrusive, leverages the existing infrastructure with causing disruption to underlying systems. The software robots integrate seamlessly into many systems. 
RoboWorx Orchestrator
This is where the robots are deployed and managed. In simple terms, it's where the magic happens. 
Orchestrator features include: 
Scheduling
Transaction Queue 
Dashboard and Reporting
API Integration
Enhanced exception handling
Security
A plus with RoboWorx you don't have to sit at your computer to see how the robot is performing; you can do that right in the palm of your hand with the mobile app. 
The Studio
The RoboWorx Studio is where the recorder will watch you perform tasks, then mimic and build a robot to perform those task automatically. You can design your automation visually with drag and drop widgets. 
With the drag and drag you can:
Create automation without having to code.
You are able to accelerate development with hundreds of pre-built automation components. 
Automate your process efficiently and quickly with the pre-build automation components.
Share and collaborate with your team.
Troubleshoot and maintain with a visual debugger, exception handling, and application initialization
RPA in the Health Care
With application specific to the health care industry. It is being used in this industry too. The old way of handwriting out everything is becoming a thing of the past as more health care facilities and businesses are going to digital records. In health care, it not just digital patient records that it can be used for, but also appointment scheduling, payroll, billing and claims processing as well. 
RPA in Accounting and Financial Services
Create automation for your invoicing process, accounts payable, reconciliations, and more. 
Here are a few of the automated processes in financial services available:
Accounts payable
Accounts Receivable
Credit Card Processing
Accrual Booking Remittance
Tax Return Preparation
Wealth Management
Same Day Funds Transfers
Foreign Exchange
Healthcare and accounting are not the only places you can incorporate the use of a robot. It can also be used for insurance – accounts payable and receivable, claim submissions, change of address processing, customer complaints, customer self-service, claim processing, insurance quoting, and more.  
As you have read, using automation to transform your business can make a difference. Helping to improve your ROI and productivity with ease. Automation is definitely something that you need in your business especially if you don't have a VA and doing everything yourself. 
What do you think about RPA? Let me know in the comments if you use automation or not in your business currently. If you don't which ways could you use RPA in your business?